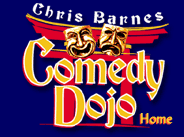 Los Angeles Times Magazine
December 9, 2001

Los Angeles Magazine
July 2000
| | | |
| --- | --- | --- |
| | | Blackbelt Magazine |

The New York TImes
September 2002

Pocono Record
May 2009

Pocono Record
July 2009




July 2000

Blackbelt Magazine
By Adrienne Lee Bell

Santa Monica, CA - Whether you want to hone your hook kick to perfection or simply tone your stomach muscles with a little laughter, Chris Barnes is the man you need to see. A shorin-ryu karate stylist, Barnes has created a line-up of comedy routines that have appeared on Saturday Night Live, Seinfeld and The Carol Burnett Show, as well as on MTV and Comedy Central. He has also devoted a significant part of his life to teaching dojo lessons by day and acting classes by night at his Comedy Dojo.

Barnes has an unconventional method of teaching. His classes offer the Zen of Shaolin along with the karate of Okinawa, he says. "Chris Barnes teaches karate as improvisation," says Daniel Weiss, a comedian and writer for Comedy Central. I don't think anybody else in the world does that.

" Comedy is like karate sparring, Barnes says, because a person will either sink or swim depending on the quality of his performance. Much of the secret to success lies in being able to respond to the unexpected. Just as a martial artist cannot always predict his opponent's punch, an improv performer cannot always anticipate what words of wit will come out of his partner's mouth or what reactions a routine will elicit from the audience.

"To be a success in both karate and comedy, you cannot yield to anticipation or retrospection," Barnes says. "Both are merely an exchange of energies, which call upon discipline, mental agility and spontaneity. This means you need to be truthful to the moment in order to explore, heighten and intensify your skills."

For years, the Comedy Dojo has been a crossroads for comics and martial artists. Weiss came for the improv and stayed for the shorin-ryu. Currently, he is studying both arts. "Barnes speaks directly to the idea behind improvisation and karate," he says. "This requires cooperation between human beings in order to work toward an end that is greater than oneself."

Because two brains are better than one, improv is more dynamic and intense than any one-man show. Not only is it a mental match for everyone involved, but it's also a physical challenge - much like the martial arts. "Through the entirety of the improv piece a performer must give more than 100 percent, " Weiss says. He claims an individual must be mentally and physically equipped to provide the audience with vivid images and direction.

Adds Barnes: "That is the only way to ensure the audience gets a comprehendible comedy routine. Just as a martial artist must dedicate all focus in order to effectively execute each technique, an improviser must be immersed in the moment if he or she intends to establish a connection with the audience."

Barnes hopes both his improv and karate students will learn enough to be able to unleash all their abilities whether in acting or sparring. "Regardless of whether the student is stepping on stage before an audience or walking down the street, it is important that each one has enough confidence to adeptly unleash his or her skills in the most cumbersome circumstances." He says. "It is this confidence that I hope my students will cultivate during training."