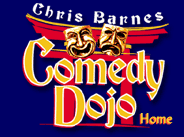 Los Angeles Times Magazine
December 9, 2001

Los Angeles Magazine
July 2000
| | | |
| --- | --- | --- |
| | | Blackbelt Magazine |

The New York TImes
September 2002

Pocono Record
May 2009

Pocono Record
July 2009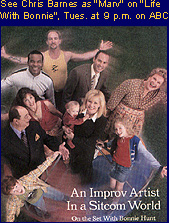 The New York Times
By Andy Meisler

In 1990 the improvisational actress Bonnie Hunt- not yet the improvisational actress-writer-director-producer Bonnie Hunt - won her first starring network television role in the short lived NBC comedy series "Grand". Two years later she joined the cast of "Davis Rules", a sitcom in its second and final season on CBS, its second network. By the time "Davis Rules" ended its run, Ms. Hunt was puzzled and appalled by the methods used to produce these shows, and most other situation comedies.

"I saw the creative process, but it didn't really make sense," said Ms. Hunt during a break in post production of this week's episode of ABC's "Life With Bonnie", a series she stars in, directs and with Don Lake, produces and writes.

"The writers wrote the show, we did a read-through and the network said what they thought was funny or not based on people reading it around the table," she said. "There was no audience, and when we finally got up on our feet, even though the 'Davis Rules' cast included a brilliant improviser, Jonathan Winters, we couldn't change a 'but' to an 'and' without somebody saying 'Wait!' And then the director had to go talk to the executive producer who had to go to the network and ask, 'Can we change it?" And then the network went to the writers and said, 'Go ahead', and then a whole new script came down, and I couldn't understand what was happening.

"And I thought: 'Boy! If the network pays all this money for creative people why are they making the investment if they didn't trust us to be creative and just send us our checks?"

That Ms. Hunt is now earning her salary in her desired manner - after bargaining from a position of mere talent and with four failed sitcoms behind her (she produced two of her own in the mid 90's) - is one of the uncelebrated surprises of the current television season.

"Life With Bonnie" is centered around Bonnie Molloy, a Chicago wife and mother of three whose chaotic but loving household is mirrored by her job as the host of "Morning Chicago," a chaotic but lovable local talk show. The series received positive reviews and is holding its own on Tuesdays at 9 p.m. behind NBC's "Fraisier" and Fox's "24". "It would do better at 8:30, but it's hanging in there," said Stacey Lynn Koerner, senior vice president and director for broadcast research of Initiative Media North America. "It has a pretty loyal following but needs a season or two to find an audience, if ABC can be patient. It's a big improvement for the time period over last year's Bob Patterson,' and even 'N.Y.P.D. Blue'"

Just as impressive, at least to those interested in how their entertainment is cooked and delivered, was a scene that occurred two days before Ms. Hunt's interview, on Stage 6 at Culver Studios, where Episode 18 of "Life With Bonnie" was being taped.

Conspicuous by its absence was a live audience: the sound stage's bleachers were empty. No staff writers, pencils hovering, were present either. Conspicuous by her omnipresence was Ms. Hunt, who was on the stage floor multitasking with hyperactive aplomb.

The scene involved her "Morning Chicago" sidekick Tony Russo (played by Anthony Russell), a Sinatra-worshiping lounge pianist. Nervously approaching his G.E.D exam, he was being prepped by the Molloy family and the "Morning Chicago" crew with mnemonic songs involving geography, science and other test topics.

At various moments Ms. Hunt positioned the four cameras and the actors; touched up her own makeup; asked for costume changes; gave practical advice to her colleagues ("Charlie, honey don't eat another apple. You'll make yourself sick." She said to the 9-year old Charlie Stewart, who plays her 9-year old son, Charlie); gently upbraided adults who used bad language in front of the children; and hurried to her mark before her assistant director yelled "Action".

Although "Life with Bonnie" is scripted, the actors are strongly encourage to improvise in character, the best examples of which Ms. Hunt cuts eagerly in the final edit. In the script, for example, Tony sings a song about state capitals to the tune of "That's Life," reading cue cards held by Marv (Chris Barnes), "Morning Chicago's cue card man. But Ms. Hunt felt the scene was flat. So she ordered the cue cards removed, forcing Mr. Russell to search his memory and go blank on occasion, leaving spaces for improvised advice from Charlie and his 11-year old TV sister, Samantha (Samantha Browne-Walters) and from Bonnie and her fictional husband, Mark (Mark Dervin).

"This way works very efficiently," said Mr. Lake, an improvisational actor and writer who shares "Life With Bonnie's" executive producer title with Ms. Hunt and writes all of its scripts with her. "It really does. It's a great way to do television. It just makes sense."

Their original drafts are not rewritten, Mr. Lake said; rather, they are improved by three days of rehearsals by the actors, most of whom have improvisational comedy backgrounds. (Ms. Hunt regularly leads the two child actors in low-pressure improvisational exercises.) The additions judged most inspired are incorporated into the script.

For all that, Mr. Kale said the basic story lines rarely change. "Bonnie and I enjoy telling a story," he said "We are pretty heavy story and character wise. But the nice little things that have happened are the new layers and meanings that the actors bring to it."

"Another great thing," he said, "is that we can usually let the actors go home by 3 p.m. Then Bonnie and I go upstairs and write the following week's script."

In fact collaboration and improvisation are the twin pillars of the 38-year old Ms. Hunt's career Born and brought up in Chicago, one of the seven children of an electrician for the city, she had a brief nursing career before finding her true calling in classes organized by Second City, the improvisational theater group.

Ms. Hunt was one of the founders of an improv troupe called An Impulsive Thing, where she worked with the actresses Joan Cusack and Holly Wortell. Ms. Wortell has been cast in several of the movies in which Ms. Hunt has appeared and every sitcom her friend has produced including "Life With Bonnie". In which she plays Holly, her makeup woman and confidante.

In 1986 Ms. Hunt was recruited into Second City's main torupe, where she met and acted with Mr. Lake. In 1990 the two moved to Los Angeles to help establish a Second City Branch. The effort failed, but Ms. Hunt became a well-regarded character actress in films like "Dave" and "Beethoven."

In 1993 and 1995 she produced and starred in "The Building" and "The Bonnie Hunt Show". Both were set in Chicago, both used improvisational techniques, both were for CBS and both faded quickly. Ms. Hunt who attributes their quick demise to inept scheduling and promotion, said she then had to fight the industrywide notion that the two failures proved her methodology was flawed. For the next five years she continued to appear prominently in supporting film roles (Jerry Maguire," "The Green Mile") and in 2000 she wrote, with Mr. Lake, acted in and directed the MGM film "Return to Me."

Last year ABC, in dire straits in the ratings, decided to take a chance on Ms. Hunt. "These things are so personal," said Stephanie Leifer, ABC's vice president for comedy development, adding that renewal of "Life With Bonnie" for another season is a near-certainty.

"It's the way that works for her." She said. "We're more interested in letting the creator do it her way within certain money parameters. And she comes in under budget by the way."

As for Ms. Hunt, the show has another benefit. "It's wonderful that now we can all work at the top of our intelligence." She said.